Student research on mental illness stigma secures publication in prestigious medical journal
By Kerry Blackadar on July 28, 2014
Psychiatric disorders are amongst the most misunderstood and stigmatized health conditions in the world.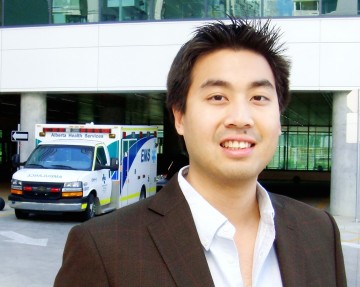 A few years ago, a group of UBC MD students looked to shift the discourse and now – with a recent publication in the Community Mental Health Journal under their belt – they're hoping to spark further research and international debate on the topic of mental illness and the effect of anti-stigma interventions on youth.
"Misperceptions about mental health conditions can have serious consequences," says Dr. Michael Yang, who graduated from the UBC MD program in May 2014. "I decided to take on this research project with a few of my friends in order to learn more about the subject and also debunk any of my own personal misunderstandings that could potentially impact my future patients."
In 2011, as part of a self-directed project option in the medical undergraduate class Doctor, Patient and Society (DPAS), Yang, together with fellow graduates Terri Sun, Sally Ke, Joshua Lai, and Jay Wang, began exploring the topic of mental illness, specifically looking to debunk negative stereotypes through early intervention and anti-stigma workshops with youth in the Lower Mainland.
Under the supervision of UBC's Dr. Jehannine Austin, an associate professor in the Department of Psychiatry and Medical Genetics, Yang and his fellow teammates took on a project known as Healthy Young Minds (HYM), which had been initiated by a group of UBC undergraduate medical students the previous year.
Building on the work of their predecessors, the team travelled to three secondary schools across the Lower Mainland and delivered a one-hour, interactive workshop to students, with the hope of reducing stigma associated with psychiatric disorders.
"We targeted adolescents because this is the time that stereotypes and stigma are really starting to form," says Yang. "The earlier we can get in there, the better."
And while they found high school students were eager to engage with the workshop – at times competing for the opportunity to answer questions or present their ideas – Yang and his fellow teammates were keen to uncover whether their workshop was, in fact, reducing stigma. After securing approval from the UBC Children's and Women's Research Ethics Board, as well as the Vancouver and Surrey School Boards, the group began collecting data and developed a study to assess the impact of their work with students.
Now, three years of analysis and several manuscript revisions later, the results of their study have been published and reveal that adolescents' stigmatizing attitudes can be effectively reduced through a one-hour, classroom-based workshop delivered by non-experts – a finding their supervisor, Dr. Austin, says is incredibly encouraging.
"There is considerable interest, internationally, in trying to reduce the stigma that's associated with psychiatric disorders and applying anti-stigma interventions in youth – there is currently no gold-standard available," says Austin. "What's great about what this group has achieved is that they've demonstrated that a single, hour-long workshop delivered by non-specialists can really help reduce negative attitudes about mental illness among adolescents."
With evidence like this, Austin hopes to see the workshop rolled out and delivered to more secondary schools in the future.
For Yang, seeing his research published in a journal has been a "surreal experience" – and one that often makes him pause to reflect on how far he's come since his first few years of medical school.
"I have seen a lot of patients with psychiatric disorders," says Yang, now a neurosurgery resident at the University of Calgary. "But being involved in this project has shaped the way I understand mental illness and I'll be better able to advocate for my patients because of that."
This year, a new cohort of UBC medical students is expanding on the work of Yang and his teammates – collecting more data and conducting further analysis with the hope of publishing their results in the near future.
But whether or not the research findings are published, it's clear that the work undertaken by undergraduate medical students over the course of the two-year Doctor, Patient and Society class is making a real impact on communities and organizations across the province.
The multidisciplinary course, offered across all four program sites, gives medical students an opportunity to connect with experienced faculty and community mentors and develop 'real-life' projects – ranging from public surveys to community-based ventures with existing agencies and organizations.
"I honestly believe that Doctor, Patient and Society is about the most important, and rewarding course that the medical students take as part of their medical training," says Austin.
As a former student, Yang couldn't agree more. "The course actually forces you to think about the social issues of our society, which I believe is a very important component. The health of people is complex, because people are complex and medicine is just as much of a science as it is an art."