Or, visit the Thrive hub at UBC's Wellness Centre to speak with us and get resources.
What is Mental Health?
Mental health is the capacity of each and all of us to feel, think, and act in ways that enhance our ability to enjoy life and deal with the challenges we face. It is a positive sense of emotional and spiritual wellbeing that respects the importance of culture, equity, social justice and interconnections, and personal dignity.
– The Public Health Agency of Canada
It affects Everyone: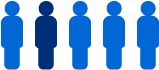 1 in 5
British Columbians will experience a significant mental health problem at some point in their lives
(2010, CMHA).

23.5%
of Canadians aged 15 and older reported that most days were extremely or quite a bit stressful
(2010, Statistics Canada).

80%
of people with depression recover, and early intervention leads to higher incidence of recovery
(National Health Institute).
Mental Health is important to you
Mental health is very important to nearly all staff, faculty, and students at UBC. In particular, 9 in 10 graduate students report that mental health is very important and that it impacts them directly.

Build your mental health.
Join us and thrive:
No matter who you are or what you like to do for your mental health, Thrive is here for you.

96% of UBC staff, faculty, and students are confident that feeling good positively impacts their ability to handle everyday challenges.*

91% of UBC staff, faculty, and students currently strive to balance different areas of life in order to Thrive.*
90% of UBC staff, faculty, and students agree that Thrive helps educate the UBC community about mental health.*
---
Get help, reach out
Whether you need help for yourself or you're concerned about someone else, reach out.